The new RD7100 and RD8100 Cable, pipe and RF Marker locators
Follow
RD7100 and RD8100 Cable, pipe and RF Marker locators
Products to Locate, Track and Map buried assets Radiodetection's new ranges of precision cable, pipe and radio frequency marker locators build on the high-performance and advanced features of the existing RD7100 and RD8100 platforms. They add the ability to detect RF utility markers, also known as EMS or Omnimarkers.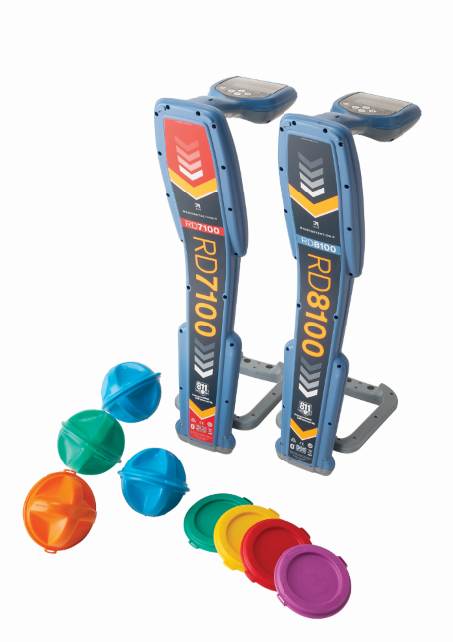 Key features
Detect all commonly used RF utility markers with automatic depth estimation for faster, accurate surveys.

RD Map™ cell-phone app for the real time* creation of detailed buried utility maps.

Combined mode to scan simultaneously for cables, pipes and RF markers reducing surveying time.

Current Direction™ to help identify the target amongst a number of parallel utilities by applying a specialized CD signal.

Simultaneous depth and current readings, enabling faster surveys.

Bluetooth connectivity as standard to interface to external devices and GIS systems.

Integrated GPS option provides an easy interface to mapping databases and survey validation.
Power Filters™ can pinpoint and discriminate between multiple power cables by exploiting their harmonic properties.

High contrast screen and weatherproof (IP65) construction for operation in almost any environment.

Light weight and ergonomic design allow prolonged usage.

Screen and operations common across Radiodetection's Precision Locator ranges minimizing changes in working practice and re-training needs.

Integral logging system records significant locate parameters every second (including positional data for GPS models) storing up to 1 year of typical usage data.

USB connectivity to quickly retrieve internal logs or to perform setup, validate or upgrade operations using the RD Manager™ PC software.

Built-in Li-Ion rechargeable batteries as standard for extended battery life and cost effective operation.
Some features are model dependent, check specifications for details
* Requires Android 5.1 or higher and data connectivity. Not available in countries where Google
Maps is blocked. Maps can be exported as CSV or KML files. Bluetooth models only
Visit: https://www.radiodetection.com/en/products/precision-cable-locator-range
RD Map™ is the free Map&Share™ Android app which supports Radiodetection's Bluetooth Precision locators and allows locator technicians to create detailed maps of buried utilities and share them directly from the field*.
RD Map for Android is compatible with the following Precision Locator products:
RD8100 cable and pipe locators
RD8100 cable, pipe and RF marker locators
RD7100 cable, pipe and RF marker locators
Note: RD7100 cable and pipe locators are not supported
RD Map is a free App from Radiodetection which can be downloaded and installed from the Google Play Store.
NOTE: Availability of RD Map may be restricted for your country or operating system.
Share this Article