RD500 Water pipe locator system - Quick start guide
Follow
RD500 Water pipe locator system
The RD500 is an effective instrument for locating and tracing buried plastic and/or concrete water pipes. The RD500 traces plastic water pipes over distances up to 150m/yds. from the point of application of a TransOnde Transmitter. The unit is low cost, quick and easy to use. Operators can learn to locate and trace water pipes with the RD500 in just a few minutes.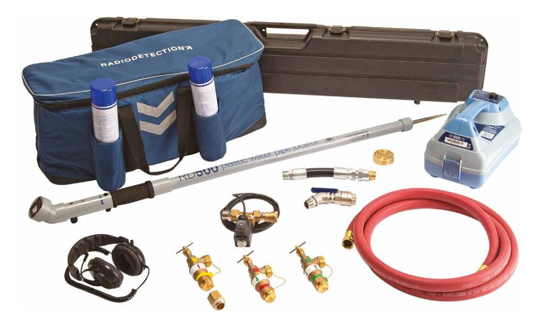 Simple operation - a meter deflects showing pick-up of the vibrations on the water pipe
No disruption of services while locating
Audible and visual tracing indicator
Variable Power Pulsers (TransOnde) supplied
Distances up to 150 metres may be traced
Locate up to 2 metre depth
Optional RD500-TX Electronic Transonde for low pressure domestic water supplies
Click the link below or copy and paste it into your browser to download the latest version of the User guide.
Documents may not be copied, reproduced, transmitted, modified or used, in whole or in part, without the prior written consent of Radiodetection Ltd.Note that Operation Manuals and all their contents are subject to change. Radiodetection products are under continuous development. Radiodetection Ltd reserves the right to modify the product without notice and some product changes may have taken place after this user manual was published.
Contact your local Radiodetection office or dealer, or visit www.radiodetection.com for the latest products and service information.
Share this Article