Updating your locator software
Follow
This section describes how to update your locator software.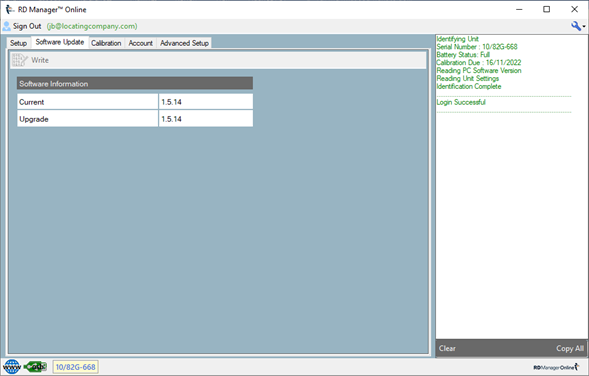 Once signed into your account you can use RD Manager Online to update your locator to the latest software.
Radiodetection recommends keeping your locators up-to-date with the latest software.
Software upgrades offer enhanced performance and are free to download.
Updating your locator's software
Before performing a software update please ensure you have the latest version installed. To check follow the Check for update section in the tools menu
To perform a software update of your locator:
Ensure you have stopped all other running programs
Connect the locator using the USB Type C lead. If you have a Li-Ion battery pack leave this connected
Turn On the locator
Select the Software Update tab. The software update screen will show your locator current software and the one available on your PC.

If your locator software requires an update the Write button will be active. Press this button to start the software update. A pop up message will show the time elapsed during the update process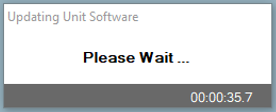 NOTE: The software update process will take around 5 minutes.
Warning: Do not turn off the locator or disconnect the USB cable while the upgrade process is in progress
Once the software update is complete the system will provide a new pop up window with a success message. Press OK
NOTE: If you do not close the success message pop up, the pop up at step 8 will continue running.
Cycle the power on your locator and the screen will show the updated locator software version. This will match the one available as an upgrade and the Write button will become inactive

NOTE: If you have issues with your USB connection such as failing to recognise your locator or Low Battery warnings please follow the USB Troubleshooting guide
Share this Article