Installing RD Manager Online
Follow
PC administrator rights are required to install RD Manager Online.
To install RD Manager Online onto your PC, follow these steps:
Ensure your locator is not connected to the PC.
Visit www.radiodetection.com, to download RD Manager Online: select
Resources ⊳ Software Downloads ⊳ Cable and Pipe Locators, then click the RD Manager Online icon or Insert the RD Manager Flash device, use Windows Explorer, navigate to the RD Manager Online folder and double click the relevant setup file (64 bit) to start the installation process.
Accept to install the RD Manager Online software;
4. Follow the InstallShield Wizard instructions,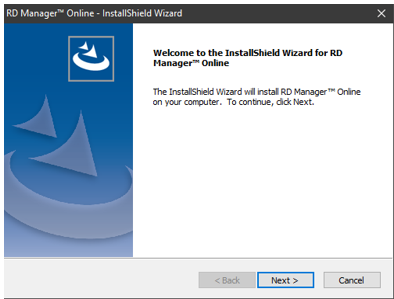 Read the RD Manager's Online End User License Agreement, figure 1.3. Select I agree the terms of the license agreement to continue with the installation or I do not accept the terms of the license agreement if you decide not to accept the EULA terms.
Press Next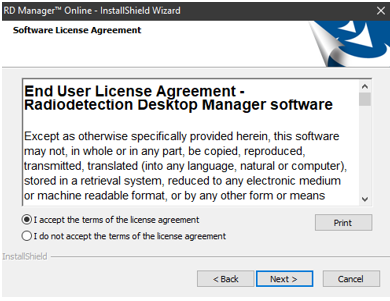 Wait for the installation of RD Manager Online to complete,
Press Finish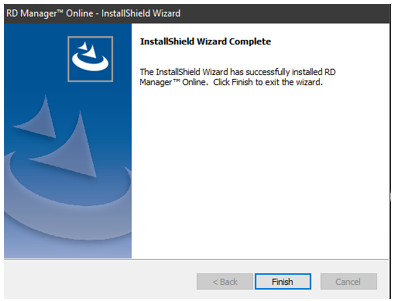 Wait for the RD Manager Online drivers installation process to complete, you may briefly see the window below. When it disappears, you have completed the installation.
To connect to the PC plug your locator into the PC using the USB cable and turn the locator ON.
NOTE: You must be connected to the internet and have signed in to access some of the software functionalities or access the online help feature
Share this Article