Connecting (Pairing) to a gC.A.T4
Follow
Alberto Iaccarino
Updated
:
Created
:
To connect to your gC.A.T4 you need to pair it with your mobile device.
NOTE: You can only have 2 gC.A.T4 paired to your device at any time.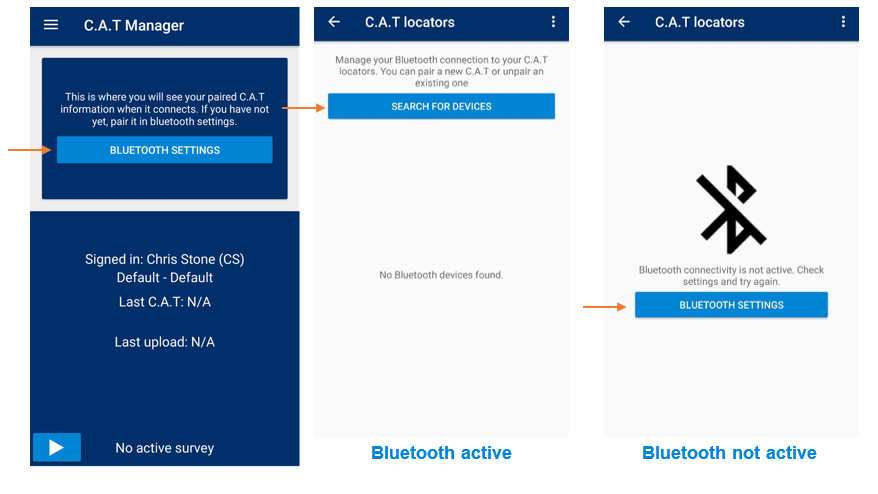 To pair a gC.A.T4:
Click on the BLUETOOTH SETTING button to access the C.A.T locators screen
If the screen shows the SEARCH FOR DEVICES button skip to step 5

 

Press the BLUETOOTH SETTINGS button to access the Bluetooth settings screen





Turn On Bluetooth connectivity in the android Bluetooth setting screen. The screen will show all the devices which are already paired to your android device

NOTE: This screen may vary depending on your android device and operating system.

Go back to the C.A.T Manager app.
Skip to step 6 if your gC.A.T4 offers Bluetooth 4.0 LE (Bluetooth Low Energy or BLE). You can determine this by checking for the presence of the "Works with Android and iOS devices" Bluetooth statement on the label on top of the gC.A.T4 battery compartment





Set your gC.A.T4 in pairing mode:

pull the gC.A.T4 trigger to switch it on

release the trigger

NOTE: iOS devices can only work with gC.A.T4 equipped with Bluetooth 4.0 LE (Bluetooth Low Energy or BLE).

 press and hold the depth button



 

 

after 8 seconds the screen will flash a 5 seconds a Bluetooth (bt) countdown and beep for the last 3 seconds

the Bluetooth icon will start flashing on the screen – the gC.A.T4 is ready for pairing
release the depth button



Press SEARCH FOR DEVICES on the C.A.T locators screen




When your gC.A.T4 serial number appears on the screen, select it by pressing on it




Depending on the Bluetooth connectivity type of your gC.A.T4 you may be requested to enter a pairing code. If this is the case enter 1234 and press OK.




The gC.A.T4 will emit a double tone sound and your gC.A.T4 will appeared on the list of paired C.A.Ts


Exit the C.A.T locators screen by pressing the back ← icon on the screen's top right corner


Your gC.A.T4 is now ready to use.