C.A.T Manager Subscriptions
Follow
When a guest user creates a company account he also subscribes to the C.A.T Manager online system.
The C.A.T Manager Online system currently offers 2 subscription levels open to the general public in the UK and Ireland only: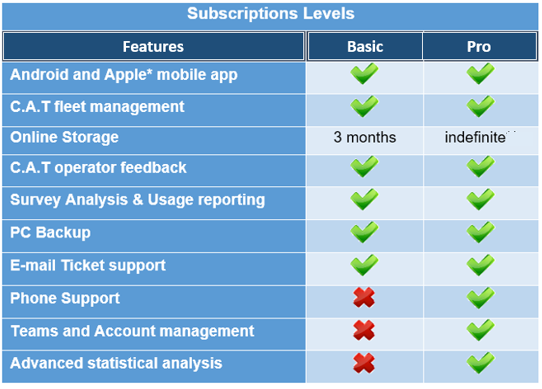 * Apple device compatibility requires the use of a gC.A.T4s supporting Bluetooth 4 (all models produced after July 2016)
The Basic subscription is free to use.
The Pro subscription is licensed per gC.A.T4 operator.
Contact us for more information or for a free trial of the Pro subscription.
Features:
Android and Apple mobile app
C.A.T Manager mobile for Android and Apple is free to download and use from their respective app stores.
C.A.T Fleet management
Register and maintain all your gC.A.T4 and Genny 4 products. Check calibration expiry date, see who last used the locator. Download the data as CSV file to use them with your company system
Online Storage
The C.A.T Manager Online system stores and backs up all your company's gC.A.T4 data on a secure cloud based server. No need to change or use your company's IT infrastructure.
C.A.T Operator feedback
C.A.T Manager Mobile app allows the operators to receive immediate on-site feedback, helping them to improve their performance and to operate more safely
Survey Analysis & Usage reporting
All scans received from C.A.T Manager Mobile, or uploaded using the web upload function, are automatically grouped into surveys and can be reviewed using a Google's Chrome or Microsoft IE web browser. Usage analysis and Survey reports can be generated and downloaded as PDF files
Backup option
Retrieve all your data from C.A.T Manager cloud to store on your PC or local network
Teams and work management
gC.A.T4 operators can be organised in areas and depots, field operations in accounts and contracts.
This allows managers to review the performance of different groups of users. Reports can be generated for customers and stakeholders, showing adherence to best practice, or documenting ongoing improvements
Advanced Statistical Analysis
Access detailed analysis to assess users, regions and accounts. This allows objective performance reviews to aid continuous improvement processes.
Share this Article