Software Manager Update Utility
Follow
About Software Manager
The C.A.T Software Manager provides access to the latest PC and Unit Software upgrades.
It can be accessed via the settings menu on the top right hand side of the screen: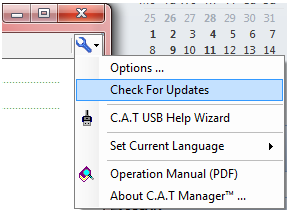 Or via the Windows Start menu program list, selecting C.A.T Software Update Manager.

Screen

If software updates are available a DOWNLOAD button will appear in the bottom left of the screen.
If no software update is available this box will not be available.
Commands
The following commands are available for the C.A.T4 Software Manager.
Exit
Closes the C.A.T4 Software Manager window.
Once downloaded, C.A.T software can be updated to individual C.A.T4's using the C.A.T Manager Configuration Screen.
Share this Article