MAX V Function
Follow

WARNING: Failure to comply with safety warnings can cause serious injury or death.
CAUTION!: Failure to comply with safety cautions can result in damage to equipment or property

WARNING! Direct connection to live conductors is POTENTIALLY LETHAL and should only be done by qualified personnel using the relevant products that allow connections to energised lines.

WARNING! The transmitters are capable of outputting lethal voltages. Take care when applying signals to to any pipe or cable and be sure to notify other technicians who may be working on the line.

WARNING! this equipment is NOT approved for use in areas where hazardous gases may be present.

WARNING! Always ensure that the Transmitter is OFF when connecting and reconnecting cables.
MAX V Function
The MAX V function on the TX Transmitter is used when there is a need to locate over long distances on high impedance target lines such as lines that are unterminated, to a maximum of 90V in Direct Connect mode.
By default the setting is always set to LOW when the unit is powered on.
It is advisable to always start locating in the low voltage mode.
Consider also using a slightly higher frequency if more current is needed over long distances, before switching to the high voltage mode.
There are 2 levels of settings in the MAX V Menu.
LOW up to 30V
HIGH up to 90V
All Tx Variants have this feature. TX -1, TX -5, TX-10, TX -10B.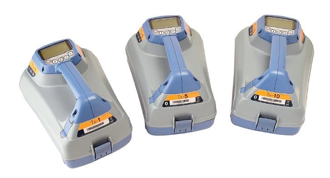 Note: The voltage limit should be set to LOW in the MAX V menu if using with a Flexitrace, and with the output power set to a maximum of 1W.
Keypad Navigation
Press the key to switch the unit on.
Press the key to enter the menu.
Press the key twice to scroll up to the MAX V Function.
Press the key to enter the MAX V menu
Press the key to toggle from LOW to HIGH.
Press the key to confirm selection and return to the previous level or exit the menu.

 

Voltage warning indicator: on the LCD display indicates that the transmitter is outputting potentially hazardous voltage levels.

 

 

 

 
Training
Radiodetection provides training services for most Radiodetection products. Our qualified instructors will train equipment operators or other personnel at your preferred location or at Radiodetection headquarters.
Share this Article