RD Manager Accounts
Follow
This section describes how to create and manage your RD Manager account. Registration is free of charge and it gives access to free software updates and e-mail alerts.
You can also use your RD Manager account to register your new locator and transmitter to take advantage of the 2 years free of charge additional warranty.
About RD Manager Accounts
To take advantage of the full suite of RD Manager features, each user will need to complete the registration process. This only needs to be performed once.
Registration allows operators to:
Register your qualifying products (locator and transmitters only) for 2 years extended warranty.
Receive warnings about software updates / upgrades as they are released.
Install software updates.
Run the eCert calibration process.
Delete usage data from compatible products (Logging and GPS models only / 'Advanced Accounts' only).
Send a service request and request technical support.
Creating an RD Manager account
To create an RD Manager account you must have a working internet connection.
1. Press the Sign In button on the RD Manager toolbar, the login screen will appear;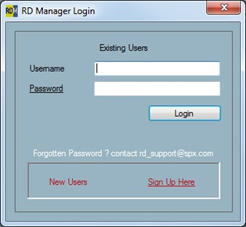 2. Click on Sign Up here.
  3. Fill the account screen.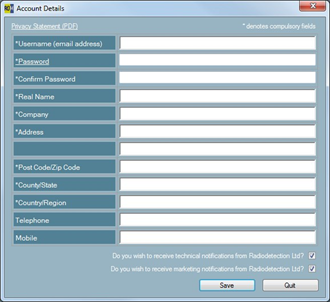 4. Press Save.
Your account will be created and RD Manager will sign you in.

NOTE: You can use the same login on any PC where RD Manager has been installed.
Signing Out
If you are using a shared PC, then to prevent other users from accessing your RD manager account you should sign out from your account by pressing the Sign Out button on the toolbar.
Signing in to your account
To sign on in to your account press the Sign In button on the RD Manager toolbar.
Privileged Account
Logging and GPS models incorporate a large data storage facility designed to offer at least one year (exact capacity is model dependent, see catalog for details) of usage log capacity. In some circumstances operators may wish to delete usage data from a usage logging compatible product
Users with a registered account can request their account be upgraded to a privileged account to enable the facility to delete the usage log.
A privileged account also allows users to edit the CALSafe settings.
Please contact your local Radiodetection office or Radiodetection approved distributor to upgrade to a privileged account.
You will need to provide the email address associated with your account and information to identify your position within your company. There is no charge for the upgrade.
You will receive an e-mail to your registered address to advise that your account has been upgraded.
"/>CAUTION:! Once an RD Manager Account is upgraded to enable usage log deletion and modify CALSafe settings, Radiodetection strongly recommend that care is taken to prevent unauthorized access to that account.
NOTE: Radiodetection cannot accept responsibility for safeguarding the data stored on RD series products and strongly recommends that data is regularly backed up to a PC using RD Manager.
Managing your account
You can use the RD Manager Account screen, to manage your account.
From here you will be able to edit your details, delete your account, and register your Precision Locate product to benefit for 2 years extended warranty and to communicate with Radiodetection.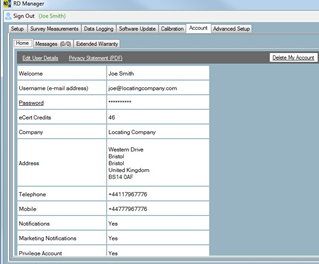 The Account screen is only available once you have successfully signed in to your account. This is divided into 3 windows:
Home: Use this window to manage your RD Manager account.
Messages: Use this window to communicate with us.
Extended Warranty: Use this window to register your locator and transmitters products to extend your standard 1 year warranty to a total of 3 years.
Homescreen
The Home screen provides the ability to manage your RD Manager account.
Available command.
Edit User Details: Allows you to amend your personal information and your notifications preferences.
Privacy Statement: Gives you access to the Radiodetection Privacy Statement in PDF format.
Delete My Account: Allows you to delete your account from our database.

CAUTION deleting your account cannot be undone.
Messages Screen
You can use the Messages screen, to access the Radiodetection online messenger system.

The messenger system is used to;
Send Customer Support requests.
Send Service/Calibration requests.
Receive notifications from Radiodetection.
NOTE: You can choose to opt out of receiving notifications from Radiodetection.
The message counters, to the left of the Messages screen title gives the number of unread messages / the total number of messages, for example
(2/5) means that there are 2 unread messages out of a total of 5 messages. Available commands:
Open: Opens the selected message
New: Creates a new Service Request or Customer Support message
Mark: Lets you change the status (read / unread) of the selected messages
Delete: Erase the selected message(s)
Print: Prints the selected message.
Recover: Recover all deleted messages.
Customer Support message
Selecting New - Customer Support will open up the Customer Support form.
Complete the form to send a message to the Radiodetection customer support team.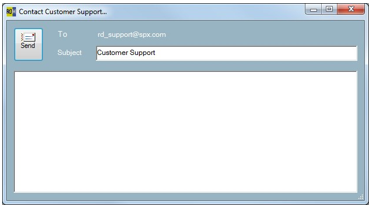 Service Request message
Selecting New - Service Request will open up the Service Request form.
Complete this form to send a service request message to the Radiodetection sales support team.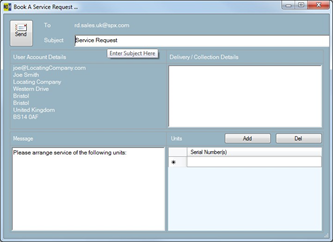 NOTE: Depending on the nature of your Support or Service enquiry we may try to contact you directly. Ensure your registration details are up to date to avoid delays.
Extended warranty screen
The extended warranty screen, allows you to register your Precision Locators and TX transmitters to extend your warranty to a total of 3 years.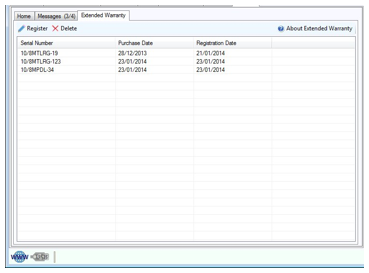 Available commands:
Register: Register your products.
Delete: Allows you to delete registered products (in case you made a mistake).
About Extended Warranty: Provides access to our warranty terms and conditions.
Share this Article