Advanced Setup Screen
Follow
This section describes the setup the CALSafe feature of the Logging and GPS locator models. You need to have access to a privileged account to access this screen.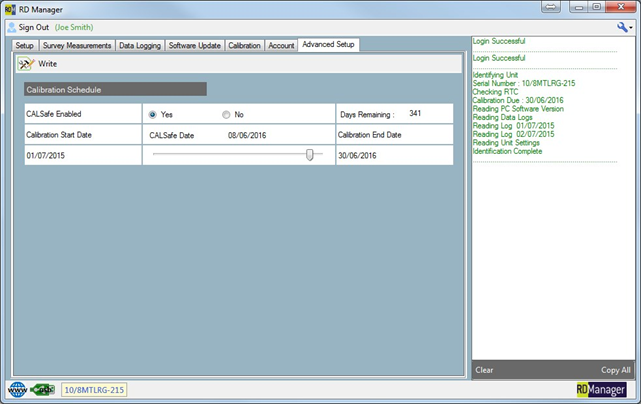 Advanced Setup Screen
This screen,  allows you to personalize the CALSafe settings of a Logging or GPS locator model.
Available commands:
Write: Saves your changes to the locator.
CALSafe
CALSafe is an advanced feature of your logging or GPS locator. This can be set to prevent the unit from operating outside the defined service/calibration period, helping to ensure compliance with individual company polices.
Users can set a CALSafe date. When the unit is within 30 days from the CALSafe date the unit will display at startup the number of days left. The locator will stop functioning on the CALSafe date.
To setup CALSafe use the commands available in the CALSafe portion of the Advanced Setup screen.

To setup CALSafe in your locator follow these steps:
1. Run the RD Manager program.
2. Connect the locator via USB 2.0 lead.
3. Sign in into your advanced account. 
4. Switch on the locator. 
5. Select the Advanced Setup tab. 
6. Select Yes or No to enable or disable CALSafe.
NOTE: When the Calibration End Date is reached the locator will stop working after a 31-day count-down.
7. Use the slider bar to vary the number of days to the CALSafe date.
8. Select Write. 
Share this Article