Tx-150PCM & Tx-25PCM Transmitters
Follow
The Tx-150PCM and the Tx-25PCM are constant current transmitters which transmit a 4Hz mapping frequency suitable for pipeline surveys.
The Tx-150PCM (150W) allows for long range signal detection of up to 30km (20 miles). Significantly fewer pipeline connection points are needed thereby reducing the time required to evaluate a section of pipeline.
The Tx-25PCM (25W) has internal Li-ion batteries that allow it to operate in the field independently of external power sources.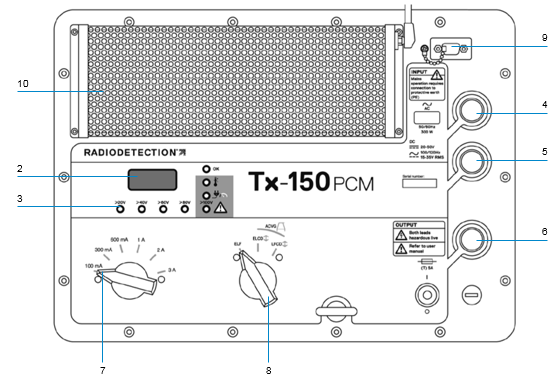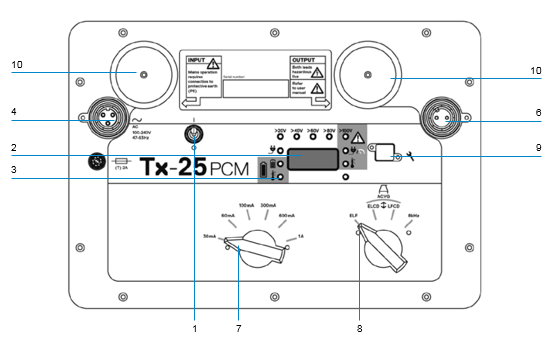 Transmitter Features
1. On/Off switch.
2. LCD display: Indicates current output, (4Hz or 8kHz) in Amps.
3. LED indicators. Provide critical feedback on the transmitter's operation.
4. AC Input socket.
5. DC Input socket (Tx-150PCM only).
6. Output lead socket.
7. Output Level Selector: Select the output level in Amps.
8. Frequency Selector: Selects the frequency.
9. Communication Port: For service personnel only.
10. Heat sink: Vents heat from the transmitter during operation.
Transmitter Controls
Frequency Select
The rotary switch selects the applied frequencies as follows:
ELF Transmission lines
ELF
Maximum range. 35% 4Hz and 65% ELF (128Hz or 98Hz).
ELCD 
Use for ACVG and current direction. 35% 4Hz, 30% 8Hz and 35% ELF.
LFCD 
Use as ELCD, alternative locate frequency for congested areas. 35% 4Hz, 30% 8Hz and 35% LF (640Hz or 512Hz).
8kHz
Locate only signal, no 4Hz frequency for pipeline mapping.
Output Current Selector
This rotary switch allows users to select different current settings. The options are;
| | | |
| --- | --- | --- |
| Tx-150PCM  | 100mA, 300mA, 600mA, 1A, 2A, 3A | |
| Tx-25PCM | 30mA, 60mA, 100mA, 300mA, 600mA, 1A | |
When the transmitter is operating, the selected current will remain at a constant level, unless the input power supply limit is reached.
Indication and warning lights
LCD Display: Displays the 4Hz or 8kHz signal current that is being delivered onto the pipe. On startup it confirms the AC frequency setting and associated location frequencies. The Tx-25PCM also displays the battery level on startup.

 Output Voltage Level: Indicates the output voltage levels. If no LED is lit the output voltage is below 20V. Do not use excessive voltage or current, as this may result in high current density through small holidays and coating defects. The may cause minor corrosion if the transmitter is left on for very long periods.

 Voltage Limit: LED on. Transmitter has reached its 100V output voltage limit – resistance of the pipe or ground connection is too high. Check all connections to correct this problem. 
NOTE: If the pipeline being surveyed has coating that is known to be in good condition, it is probable that the voltage warning LED's will illuminate as the current is increased.
Undesirable voltage on output: LED flashes. This indicates a high voltage, such as mains, has been detected on the output. The unit will not operate until the cause of the high voltage has been removed and the transmitter has been reset by switching it off, and on again.

 Power Limit: System cannot supply power required to support transmission at the selected current. Switch to a lower current setting until the OK LED illuminates GREEN. Allow a few seconds to settle between selections.

 Tx Over Temperature: Lights if temperature exceeds recommended limits. The transmitter will automatically shut down. Wait until the transmitter has cooled down before recommencing operation.

 Lights GREEN to indicate unit is working correctly.
Tx-25PCM only

 Power: Indicates power supply connected.

 Battery Charging: Indicates when battery is charging. Lights ORANGE when battery level is low. Lights Green when battery is almost charged. When fully charged the LED will turn off.

 Battery Charge Temperature: Indicates when battery is out of temperature range for charging.
Tx-1, Tx-5 and Tx-10 Transmitters
The PCMx can also be used with a Radiodetection locating transmitter. These transmitters do not produce a 4Hz mapping signal but can be used to either:
• Boost the locate part of the signal when the PCMx is being used for pipeline surveys. 
• Provide a wider range of locate signals when the PCMx is being used in RD8100 mode, as a precision cable and pipe locator.
Share this Article