Calibration Certificates and eCert
Follow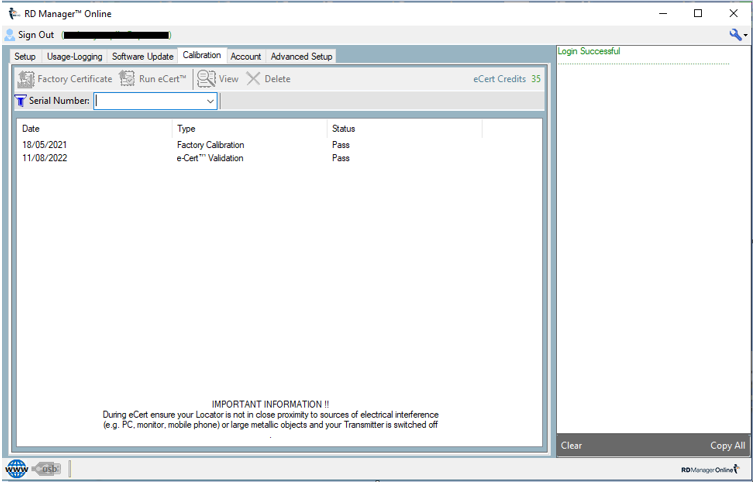 The Calibration screen allows you to retrieve the calibration certificates for all your locators.
It also allows to extend the calibration validity for a further year by performing eCert calibrations. (additional purchase may be required)
This screen is only available once you have successfully signed in to your account.
Available commands:
Factory Certificate: Retrieves the latest Factory Calibration data for the connected locator.
Run eCert: Performs an eCert Calibration on the connected locator.
View: Display the selected certificate in your default pdf viewer
Delete: Deletes the selected certificate.
Unit Selector menu: Selects which unit's data to display.
SN Filter: Serial Number filter.
Retrieving the Factory Calibration Data
Your locator stores the calibration data from its latest Factory Calibration data in its internal memory.
To retrieve a unit's calibration data follow these steps:
Connect the locator using the USB Type C lead. If you have a Li-Ion battery pack leave this connected
Switch on the locator
Press the Factory Calibration button
After retrieving the factory calibration data, the Serial Number of the connected unit will appear in the Unit Selector menu and the Factory Calibration Certificate will appear in the Calibration window.
Once retrieved your calibration certificates will be stored in your PC.
Note: If you have issues with your USB connection such as failing to recognise your locator or Low Battery warnings please follow the USB Troubleshooting guide
Manage your calibration certificates
Use the Unit Selector pull down menu, to select calibration certificates belonging to a specific locator.
Locator serial numbers, printed on the label next to the battery compartment, are used to catalogue and store calibration certificates in RD Manager.
If you have a unit connected the Unit Selector menu will automatically display the unit's serial number if calibration data for this unit is already present.
Serial number filtering
If you use RD Manager Online to manage a large number of locators you may find useful filtering the number of units available.
To Filter, select the Serial Number 'drop down' menu option.
You can use this filter to reduce the number of serial numbers (different locators) displayed by the Locator Selector menu.
To use the Serial Number Filter:
Click on the Serial Number 'drop down' menu.
Select Serial Number.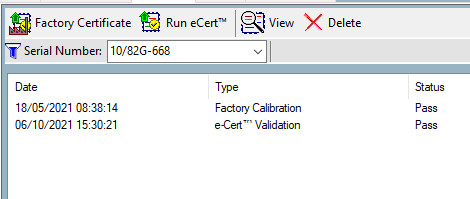 Review and print a certificate
Follow these steps:
Select the certificate you want to review.
Press View or double click.
The selected calibration certificate will open up in your default PDF reader.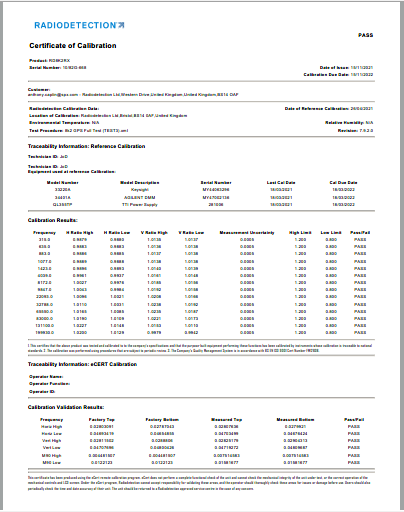 From here you will be able to print your certificate.
Delete calibration data
To delete calibration data follow these steps:
Select the calibration data you want to delete.
Press Delete.

CAUTION: Deleting calibration data cannot be undone.
eCert
eCert Calibration Validation allows users to extend the Factory Calibration validity of your locator for a further year, up to a maximum of ten years.
To perform an eCert you must have at least one eCert credit, Contact your Radiodetection's sales representative for information on how to obtain credits.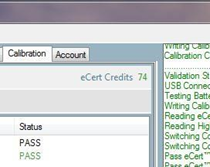 Before performing an eCert Calibration, ensure that the locator to be tested is not in close proximity to sources of electrical interference (e.g. PC, monitor, mobile phones) or large metallic objects, and that any Radiodetection's transmitter or other signal transmitters in the vicinity are switched off.
To perform an eCert follow these steps:
Warning: eCert Validation process duration will vary depending on your PC environment. Ensure to stop all other programs before running the eCert process
Connect the locator using the USB Type C lead. If you have a Li-Ion battery pack leave this connected
Switch on the locator
Press the Run eCert button. Disclaimer and User Details window will open.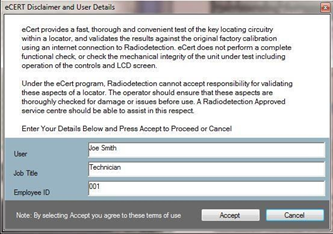 7. Enter your details and press OK to accept Terms and Conditions or Cancel to exit.
8. eCert will commence.
Note: Typically an eCert will take around 60 seconds to complete
You can follow the progress by looking at the system messages reported by the Message Pad window.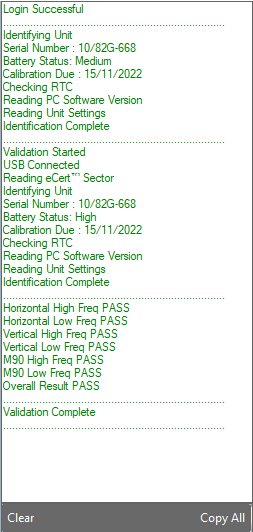 9. The eCert Calibration result will automatically appear in your default PDF browser.
You will only be charged an eCert credit if the eCert Calibration is successful.
If eCert fails, RD Manager Online produces an eCert Failure Report which can be printed and returned to a Radiodetection Service Centre along with the faulty locator.
Note: If you have issues with your USB connection such as failing to recognise your locator or Low Battery warnings please follow the USB Troubleshooting guide
Share this Article