Warranty and Extended Warranty
Follow
Anthony Caplin
Updated
:
Created
:
Warranty and extended warranty
RD7200 locators and transmitters are covered by a 1 year warranty as standard.
Customers can extend the warranty period to a total of 3 years by registering their products (locators and transmitters) within 3 months from purchase.
To register your product:
Visit https://portal.radiodetection.com to create your portal account* and use the Product page to register your locator or transmitter.
Visit Managing-your-Radiodetection-products for instructions on how to create a portal account or register your product.
* A valid email address and mobile number are required.
From time to time Radiodetection may release new software to improve the performance or add new functionalities to his products. By registering user will benefits from subscribing to e-mail alerts advising about any new software and special offers related to its product range.
Users will be able to opt out at any moment from receiving software and technical notifications or just from receiving marketing material.
Alternatively,
You can register your product using RD Manager Online for Windows:
The extended warranty screen, allows you to register your Precision Locators and TX transmitters to extend your warranty to a total of 3 years.
How to download and install RD Manager Online:
To see this screen you need to Sign In into your account.
How to set up an RD Manager Online account : RD-Manager-Online-Accounts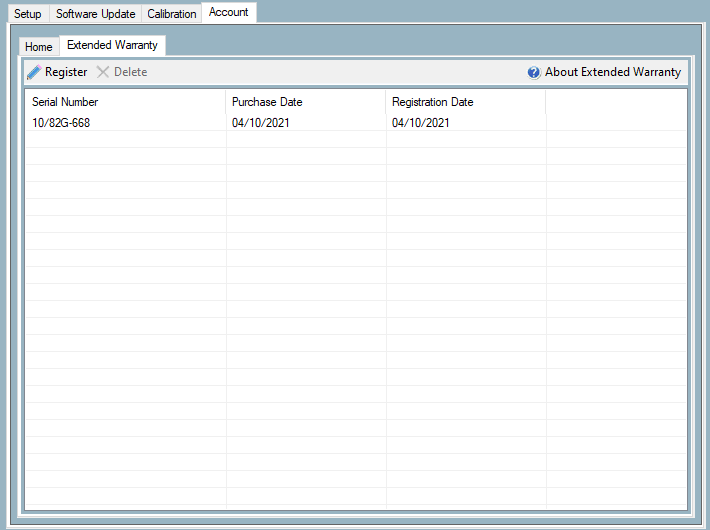 Available commands:
Register: Register your products.
Delete: Allows you to delete registered products (in case you made a mistake).
About Extended Warranty: Provides access to our warranty terms and conditions.
Registering your products
You can extend the warranty period to a total of 3 years by registering your product within 3 months of purchase.
To register your product you need to locate the serial number of your products:
For a locator this can be found on the label next to the battery compartment.

For a transmitter this can be found inside the battery cavity.
Follow these steps:
Press Register

Select your purchased date (as shown by your invoice).

Enter the serial number, commencing with 10/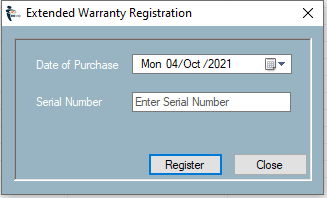 NOTE: If you have a locator connected, its serial number will automatically appear in the box
Press Register to complete the registration or Close to exit
NOTE: Products registered using the Radiodetection Online Portal (https://portal.radiodetection.com) are not visible in the RD Manager Online Extended warrant list. This is normal